Adventures, check.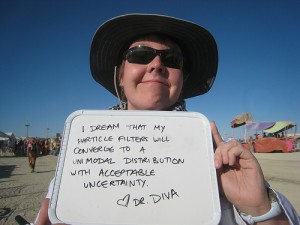 I'm back from a series of adventures.
Burning Man was, of course, awesome.  There was dust, there was fire, there was geekery, there were nicknames, there was fire, there was art, there was music … and did I mention there was fire?  Among other things, I learned how to change the alternator in the head of a Mayan god, how to set up, fire, refuel, and teach others to use gasoline flamethrowers, and that a lab coat is a pretty good way to keep the sun off my all-too-Swedish skin.
I have an audio recording of the Black Rock Swing Orchestra's inaugural show; swing dancers packed the circus tent in the Red Nose District!  I hope to post a few clips soon, but I need to shake the playa dust out of the tunes!
After all that time in the desert, I did some whitewater rafting to rehydrate this weekend.  The gig Saturday night was a capella around a campfire, but that's as fun a venue as any!  No monitor, though….
The photos are by Dr. Fabio of the Mind Shaft Society.
Posted: September 9th, 2008 under News.